A Medical Spa Marketing Agency Obsessed with Getting You Guaranteed Leads & Appointments To Increase Your Revenue
We Guarantee
60 Medical Spa Leads

and

20 Appointments Per Month

on Our Minimum Tier 1 DemandGrowth Profit Program
(Custom programs tailored to your needs)
Demand Growth Digital Offers YOU an Unfair Advantage Over Your Competitors and Great Pricing For Your Medical Spa, Aesthetic Practice or Health & Wellness Integrated Medicine Practice

If you want to market your Med Spa successfully, you need to understand the needs of your target market. A med spa, medical spa and medical aesthetic practice can be marketed in different ways. This can range from traditional marketing, social media and digital marketing, to marketing that is focused on providing a specific service or product.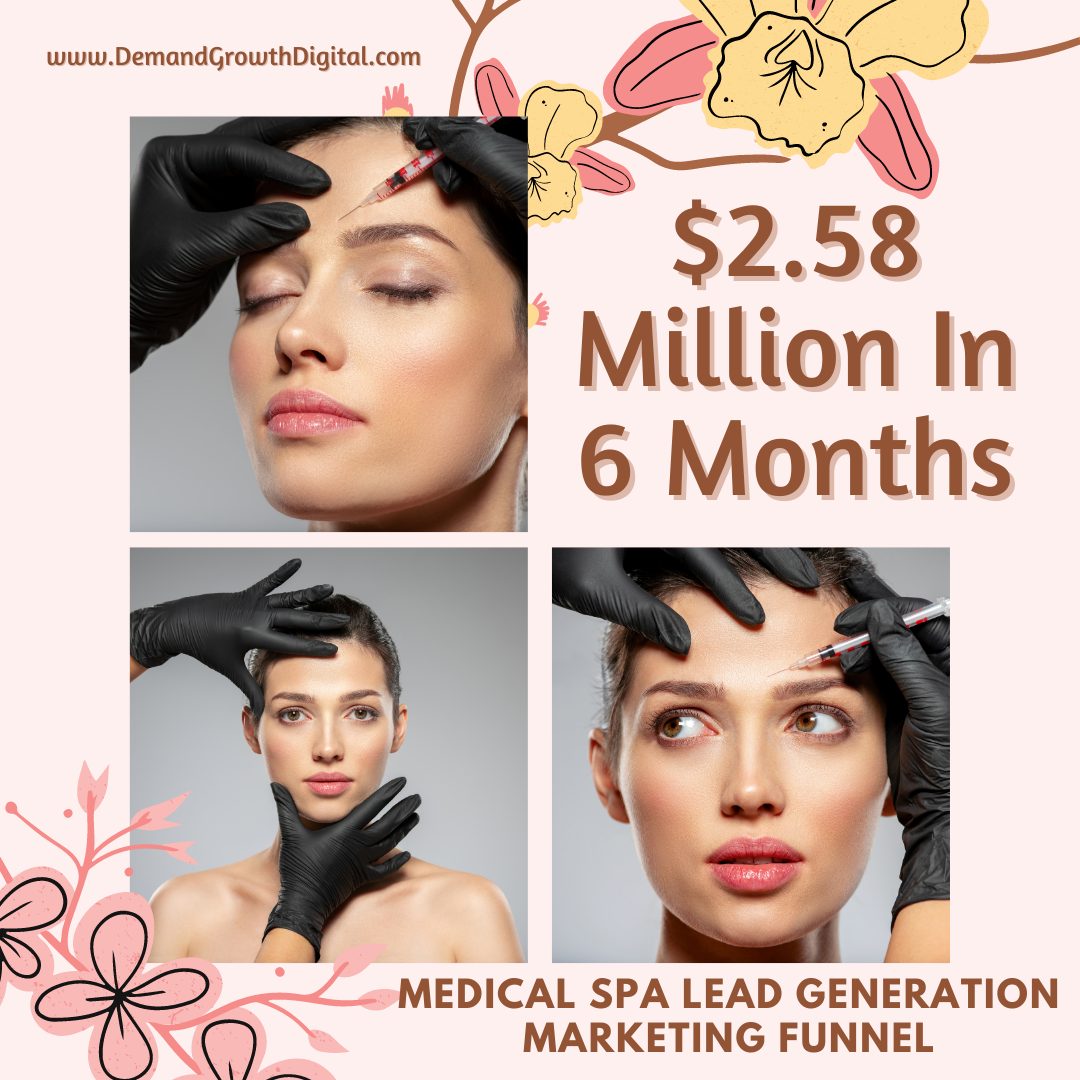 We Scaled Our Medical Spa Client To $2.58 Million Revenue In 6 Months With a 11x ROAS Implementing Our Lead Generation & Appointment Setting Campaign With Facebook & Instagram Ads
Stripe Platform: (Conversion Values shown)
Marketing Funnel & Lead Generation: Webform Leads, Purchase Conversions and Booked Call Appointment
Service: Medical Spa Services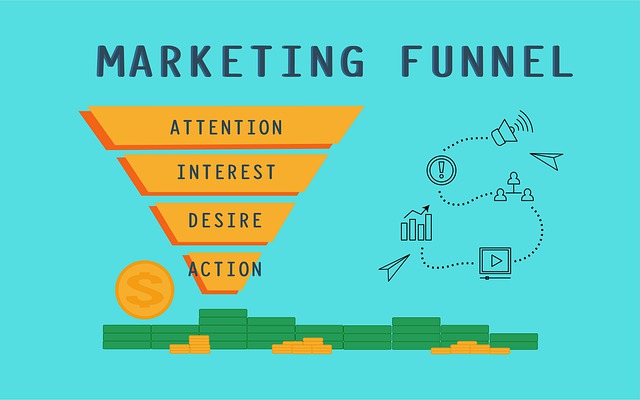 Duration: 5/1/21 – 10/31/22 (6 months)
Total Ad spend: $228,926
Total Gross Sales Conversions: $2.58 Million
Total Customer Sales: 2,006
Average Order Value Per Customer/Patient:  $1,000
ROAS: 11.27x
Avg CPA: $114 (Cost per client)
Total Leads: 7,894
Average CPL: $29 
The growth of the medical spa and wellness services in the United States has been rapid, and so is the growth of the online marketing and advertising space.
A marketing solution that is flexible enough to provide marketing and advertising for your medical spa, aesthetics, plastic surgery, weight loss, IV therapy and wellness practices that understands your brand, industry, your business needs, marketing, advertising and digital technology is needed.
Marketing strategies have evolved over time, but they have always revolved around either short term revenue generation or long term revenue generation.
Google PPC ads are based on the user's "Intent". This means that the ad will be shown based on what a user is doing on Google at that moment. Facebook ads are based on user "Interest" and past history. Instagram ads are based on user "Interest" and past history.
Our Med Spa, Medical Spa Marketing or Spa Marketing Services Can Expand Your Patient/Client Base
Digital Marketing Can Grow Your Med Spa Effortlessly
If you are looking to boost your medical spa business on the web, let us help you today. We are masters of the internet and can help you reach your target market.
Medical Spa Marketing: The Advantages
Demand Growth Digital is one of the best providers of digital marketing and conversion technology for medical spas and other healthcare businesses.
We are a leading provider of online marketing services and technology for medical practices and med spas. We are focused on delivering top-notch websites and marketing programs that help them grow their patient base.
We are one of the best digital marketing agencies for med spa and healthcare businesses.
Demand Growth Digital Marketing Services (Just a few main med spa services and lots more tailored to your med spa business)
Coolsculpting Marketing
We use Facebook, Instagram & Google advertising to deliver a steady flow of new clients that our automations convert into booked consultations.
You may be tempted to use other methods to get rid of extra fat, but coolsculpting is the most effective and non-invasive way to lose weight.
Botox Marketing
We have created a Botox marketing strategy that will get the most out of your online marketing budget.
You can grow your business faster and more effectively with a Botox marketing strategy. We'll work with you to create a strategy that brings in more patients and leads.
Laser Hair Removal Marketing
Use Demand Growth Digital's tried and tested laser hair removal marketing strategy to outshine your competition almost overnight.
Plus other services:
All Cosmetic procedures
All Aesthetic Laser procedures
All Injectibles
Dermal Fillers
Skin Tightening
Microneedling
Facials
Chemical peels
Skin rejuvenation, etc

Whether you are a laser hair removal industry veteran or a first-time in the aesthetic field, we can get the word out about your laser hair removal services.
The rise in popularity of medical spas is due to a number of factors. Younger people are now seeking alternative treatment options such as medical spas. There is also an increase in the number of people who are avoiding surgery. People are also becoming increasingly conscious about their health and are seeking out alternative treatment options.
The competition is getting tougher. To ensure that the med spa you are operating is the best, you need to innovate to survive. New times and new audiences require new ways. What can you do to make your med spa stand out from the crowd?
HOW SHOULD YOU BE MARKETING YOUR MEDICAL SPA TODAY?
To help you create a more Successful future for your med spa business, here are the 12 step medical spa marketing plan with all the key elements that make up an effective modern marketing strategies that are proven to work to follow:
Your Website– Your most essential marketing tool
Your BrandName– It must be inviting, accessible, and high-end
Landing Page Funnels – Where visitors convert to leads and leads convert to patients
Social Media Marketing– Engaging prospects in the places where they spend their time
Online Advertising– Turbo-charging your other digital elements
Webinar Marketing – Online webinars close MORE appointments and SALES on auto-pilot 24/7
Your Blog– A resource to educate prospects and existing patients about the latest trends and treatments
Email & SMS Marketing– Still are go-to lead closing and nurturing tools
Offline Traditional Marketing– Integrating traditional media and publicity into your digital strategy
Live Events – In-person marketing that puts a face to your med spa
Customer Loyalty Programs – The road to predictable revenue
Your Budget Plan– Getting the biggest bang for your buck
Successful Marketing Requires Smart Strategy
As the population continues to age, they seek medical spa treatments to reverse the signs of aging. These treatments are tailored to each individual's needs. The goal of medical spas is to help people look and feel younger, more youthful. The most common treatment is the face-lift, with other popular treatments including Botox, liposuction and body sculpting.
Skin conditions will affect all ages, regardless of age
If you are planning to open a high end spa, you need to invest in a marketing plan that attracts and retains your clientele. You need to take the time to hone your skills and carefully select your menu of procedures.
At DEMAND GROWTH DIGITAL we specialize in implementing the most cost effective results driven Med Spa , Medical Spa and Spa Marketing in a broad range of verticals that propel your company towards success and we will help scale your business today!
For Your Free Marketing Plan and Consultation, click the 
Book Free Strategy Call

button now!
"I'm the founder and owner of an integrative and wellness medical clinic and have always struggled to bring in new patients but after I've been in contact with your company, I have nothing but praises for you and your team. Your team have helped our practice increase our appointments set and revenue by almost 130% in 3 months creating a predictable system to generate new qualified leads. Thank you so much! I recommend your medical & wellness marketing services!"
Jane B
Integrative Medicine & Wellness Clinic Owner
For more information, if you have any questions or to schedule your FREE consultation, talk with our growth marketing expert, uncover your scaling opportunities and get innovative ideas, next steps and pricing. Takes 1 minute to get started. Please fill out the form on the right.
Email:
info@demandgrowthdigital.com
Address:
Demand Growth Digital
135 Madison Ave. 5th Floor
New York, NY 10016
Complete this form below for more information or your FREE marketing plan today!