Roofing & Solar Company $8.34 Million In 6 Months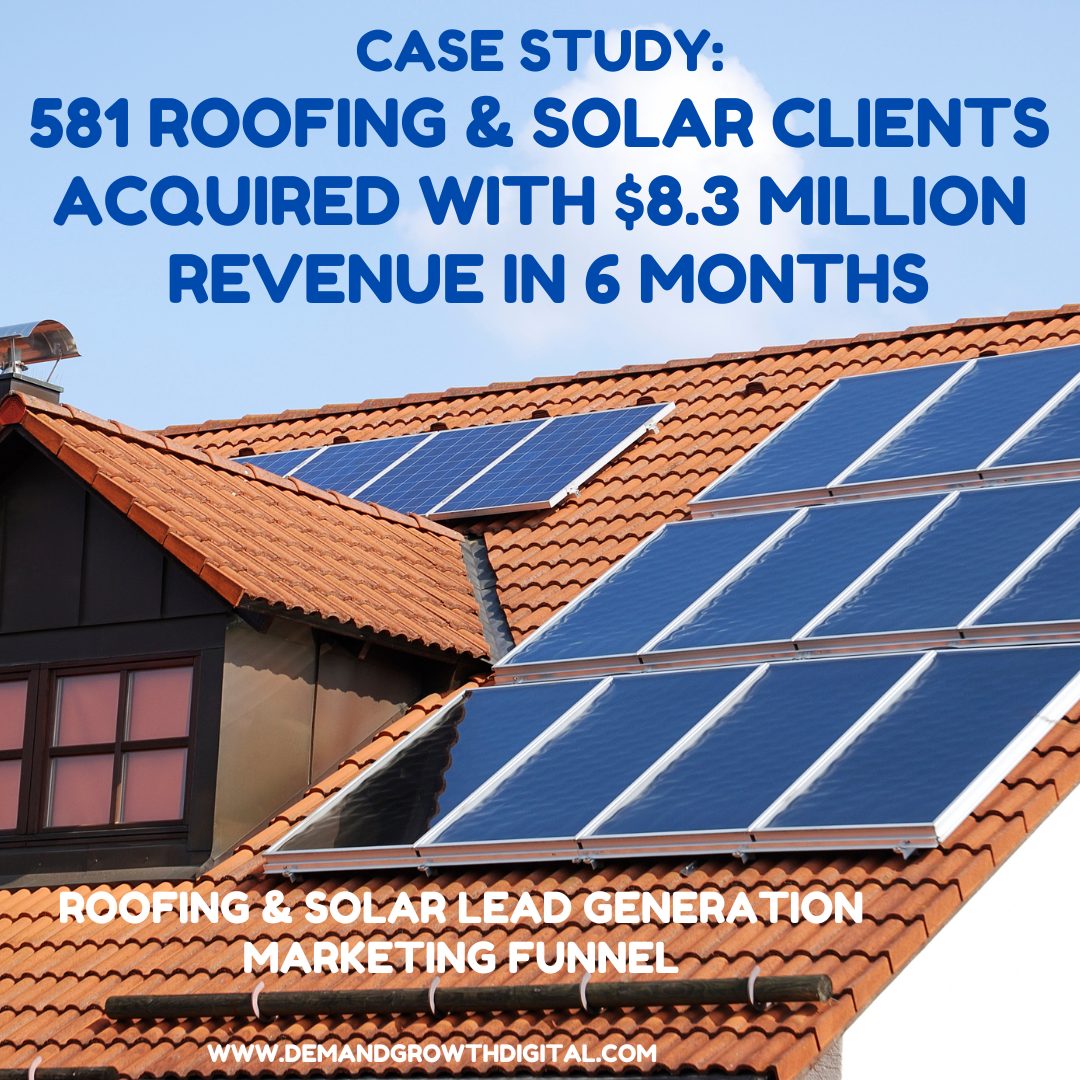 We Scaled Our Roofing & Solar Panel Contractor Client To $8.3 Million Revenue In 6 Months With a 17.5x ROAS Implementing Our Lead Generation and Appointment Setting Funnel Campaign With YouTube, Facebook, and Instagram Ads
Click Funnels Platform (Prepaid Deposit Conversion Values Shown)
Marketing Funnel: Lead Generation – Facebook & Google Webform Leads and Prepaid Deposit Purchase Conversions
Product & Service: Residential Roofing and Solar Panel System Installation
Project Name
Roofing & Solar Company $8.34 Million In 6 Months
Our Role
Paid Social Media Marketing, Lead generation & Appointment Setting
Roofing and Solar panel system installation companies are increasingly turning to digital marketing strategies to increase their customer base and revenue. Demand Growth Digital has been helping one such companies. In 6 months have seeing dramatic improvements in their business performance. When the company first came on board, they only generated $256,000 a month in revenue from their roofing and solar panel system installation services.
But with the help of Demand Growth Digital's customized roofing and solar lead generation appointment setting funnel, Facebook/Instagram, TikTok & YouTube lead generation ads and digital marketing strategies, this company has increased its monthly revenue by an astonishing 532%, generating a whopping $1,390,983 per month within 6 months of working with us, Demand Growth Digital.
When the client began working with us, our team ran advanced analytics tests to identify where best to target potential customers based on a range of factors such as age ranges, interests and other demographics. With this data in hand, the team then developed highly targeted Facebook, Instagram & TikTok campaigns using Lookalike Audiences and Retargeting Ads that helped the company reach more potential customers than ever before. In addition, image and video adverts were created for Facebook & YouTube that showcased the company's roofing and solar installation services along with customer testimonials & UGC's that were used to increase brand trust amongst viewers.
Duration: 3/1/22-9/30/22
Total Ad spend: $419,765
Ad Spend Per Month: $69,960
Total Gross Sales Customer Conversions In 6 Months: $8,345,900
Total Gross Sales Conversions Per Month In 6 Months: $1,390,983
Appointments Set: 709
Appointment Show Rate: 82%
Total Customers: 581
ROAS: 17.5
Total Leads: 5,905
Average CPL: $25-71
Demand Growth Digital also implemented a comprehensive lead generation & appointment setting funnel which included manual phone calling, automated email, SMS, Facebook messenger & voicemail drop sequences sent out after people had interacted with certain ads or clicked certain links on social media platforms or other websites. This enabled them to nurture potential customers until they were ready to purchase roofing service or solar panel systems from the client's company. This was achieved through automated emails sent out at different points in time that highlighted various features offered by her client's business which encouraged customers to make purchases.
Thanks to these strategies employed by Demand Growth Digital that focused on driving high quality leads for their clients roofing and solar panel systems installations services rather than just vanity metrics like impressions or clicks , this Roofing and Solar Panel System Installation Company saw a Return On Ad Spend (ROAS) of 17.5 over 6 months of working with us; Demand Growth Digital. Alongside these incredible revenue increases achieved over such a short period of time , this client also saw an uplift in brand recognition, new customer acquisition and an explosive increase in overall sales volume .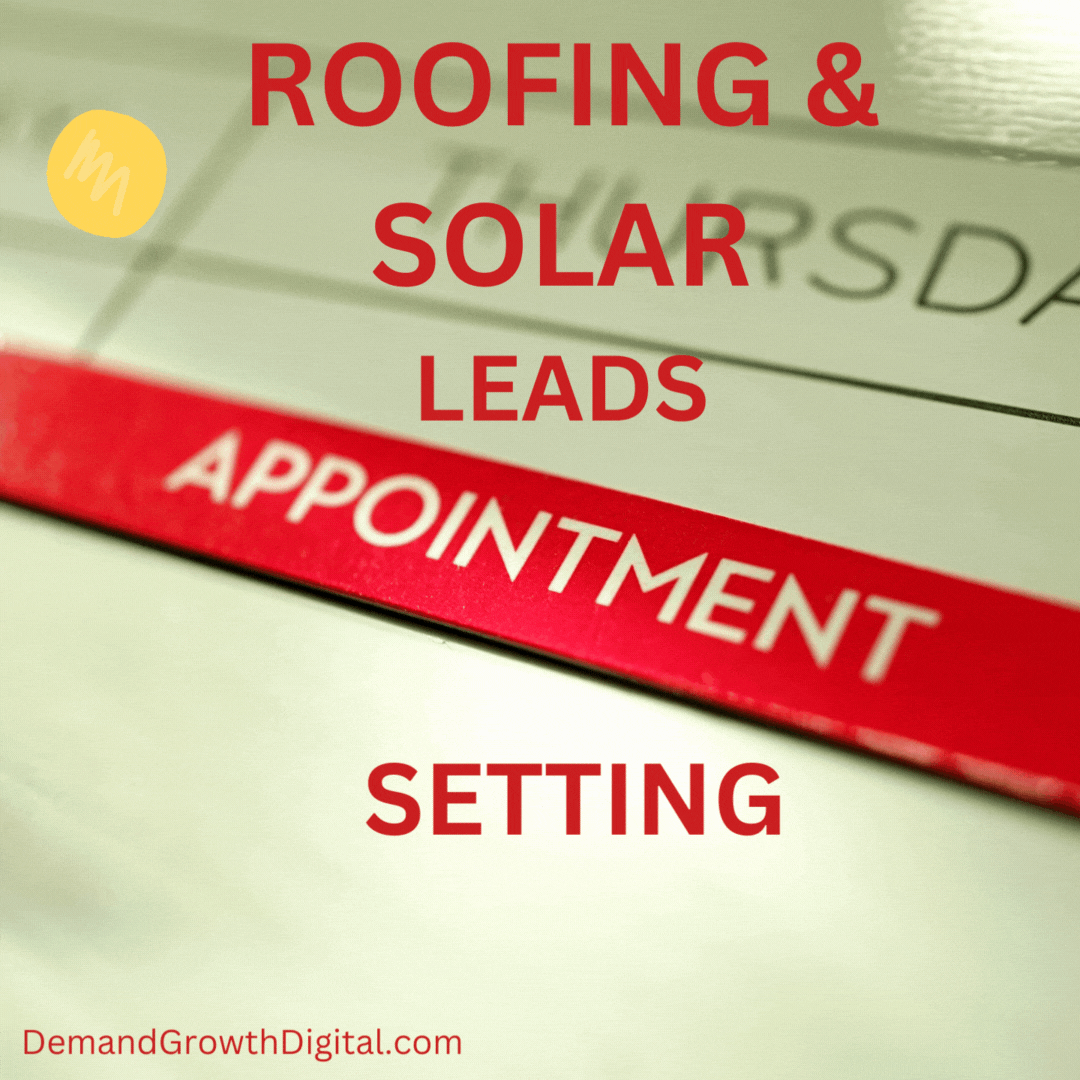 This case study demonstrates how effective digital marketing strategies combined with expert implementation can be when it comes to increasing leads and generating more revenue for businesses operating in niche markets like Roofing and Solar Panel System Installations. Through careful planning, targeting tactics, creative content creation and executional excellence, Demand Growth Digital was able to help this Roofing and Solar Panel System Installation Company achieve tremendous success within 6 short months. The sky is truly the limit when it comes to succeeding online if you have the right tools and resources at your disposal!
The case study summary continues with a discussion of the team's conclusions after analyzing the data. The team found that the company had made a great deal of progress in terms of overall performance and customer satisfaction, but there were still areas for improvement. For example, the team identified gaps in communication between departments which had led to delays in decision-making and an inconsistent potential customer journey & experience. Additionally, they found that some teams lacked visibility into their own performance metrics which could provide valuable insights into how best to improve processes and service delivery.
To address these issues, the team recommended a combination of process improvements and initiatives to improve collaboration across departments. Specifically, they suggested implementing a cross-functional project management process to improve communication among departments, training staff on customer service protocols, and establishing shared goals and KPIs for each department to ensure everyone has visibility into their performance metrics. They also recommended introducing an internal rewards system to recognize top achievers as well as employees who demonstrate exceptional customer service.
At DEMAND GROWTH DIGITAL we specialize in implementing the most cost effective results driven Roofing and Solar Lead Generation & Appointment Setting Marketing that propel your business towards success -we help scale your company and revenue all the way!
For Your Free Marketing Plan and Consultation, click the

Free Marketing Plan

button now!