Healthcare & Functional Medicine Practice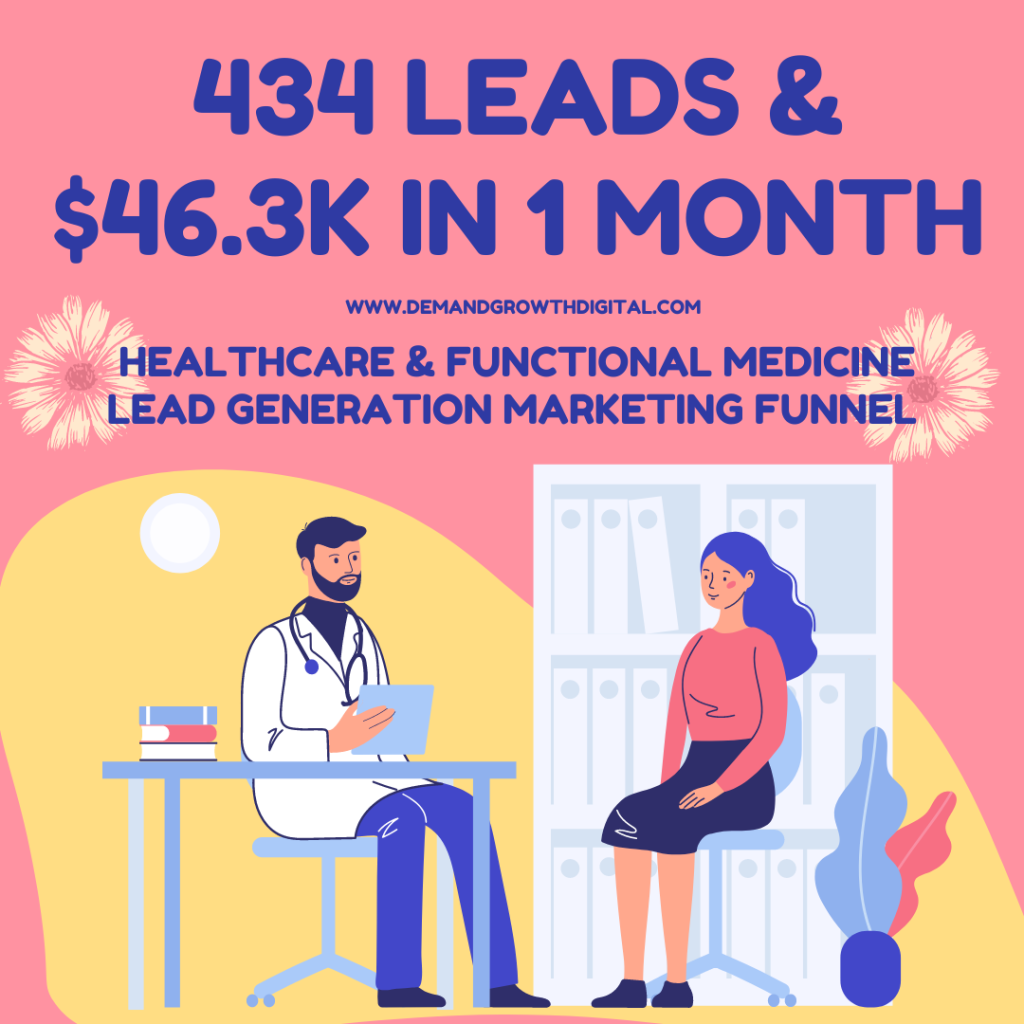 We Generated 434 Qualified Leads In 1 Month @ 14.63 Per Lead Boosting Total Sales To $46,359 For Our Healthcare & Functional Medicine Practice Client Implementing a Lead Generation Marketing Funnel With Facebook Ads and Instagram Ads!
Despite already having a solid foundation, the new healthcare and functional medicine clinic was unable to maximize its potential. Revenue stagnated at an average of $12,900 per month due to lack of effective marketing efforts. To address this issue we implemented targeted lead generation and appointment booking systems as well as Facebook ads which resulted in increased patient numbers and revenue growth for the Clinic.

To increase their patient base, we developed a lead generation marketing campaign with targeted ads and an appointment booking form. Using Facebook as our platform, we reached out to potential clients to create more awareness of the landing page for successful conversion rates.
Facebook Ads Platform (Conversion Values shown)
Marketing Funnel: Lead Generation: Webform Leads, Purchase Conversions and Booked Call Appointments
Service: Healthcare & Functional Medicine Clinic
Project Name
Healthcare & Functional Medicine Practice
Our Role
Paid Social Media Marketing, Lead generation & Appointment Setting
Duration: 3/1/22 – 3/31/22 (1 month)
Total Ad spend: $6,350.67
Total Gross Sales Conversions: $46,359
Total Customer Sales: 36
Average Order Value Per Patient:  $1,287
ROAS: 7.3x
Avg CPA: $176.40 (Cost per patient)
Total Leads in Nurture Pipeline: 434
Conversion Rate (Within 7 days): 8.3%
Average CPL: $14.63
After a month of focused marketing efforts, the clinic saw remarkable success. An incredible 278% growth in revenue was enjoyed and ROAS (return on ad spend) hit 7.3 – with an average patient value of $1,287! A highly efficient expenditure yielded results well worth its cost per lead at only $14.63

Our custom-tailored patient lead generation and appointment booking funnel, along with targeted Facebook ads sparked remarkable results for a healthcare and functional medicine clinic. Revenue saw an impressive boost as the cost per lead remained low while return on ad spend was high – showcasing how successful this marketing campaign truly is!
At DEMAND GROWTH DIGITAL we specialize in implementing the most cost effective results driven Healthcare & Functional Medicine Marketing that propel your clinic towards success and we help grow your practice all the way!
For Your Free Marketing Plan and Consultation, click the

Free Marketing Plan

button now!