Online Course Lead Gen $270.3k in 7 Days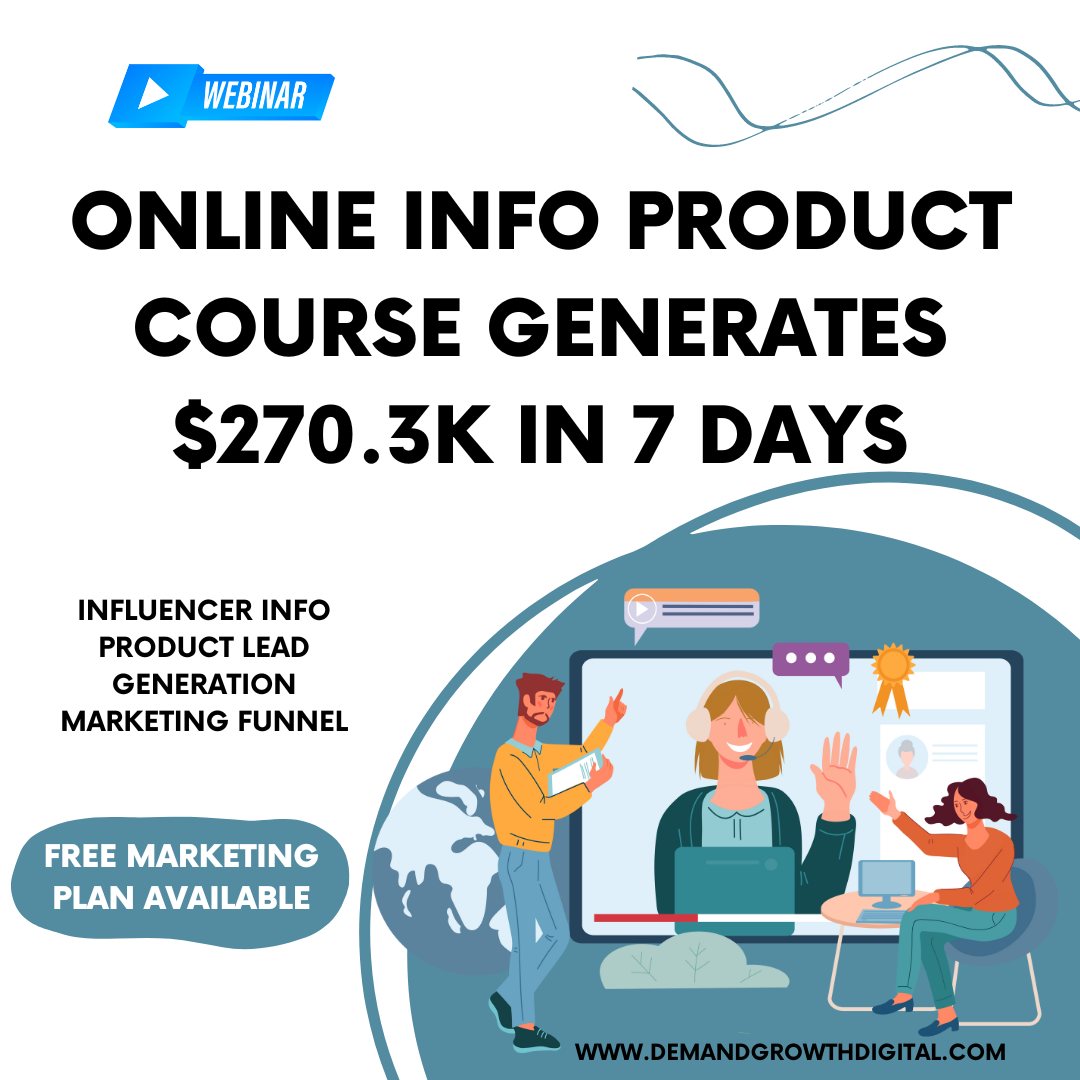 We Helped Our Coaching & Consulting Client Generate $270,349.84 In 7 Days After 60 Days of Marketing An Online Course Info Product Running Our High-Converting Facebook and Instagram Ads & Webinar Marketing Funnel
We recently worked with a coaching and consulting influencer client who was selling their coaching & consulting program, online information product and was making $20,000 a month in revenue. Our main goal was to help increase the clients revenue and improve the efficiency of their advertising spend.
To achieve this, we implemented a number of strategies, including the use of a custom built client acquisition system, automated webinars, a lead generation funnel, and targeted advertising on Facebook and Google. These efforts helped to significantly increase the influencer's website traffic and lead generation.
After just 60 days of working together, the influencer's revenue had increased to over $270,000 during a 7 day time frame and their return on ad spend (ROAS) was 4.77. This case study demonstrates the power of targeted advertising and effective lead generation in driving significant revenue growth for online businesses.
Hyros Platform (Conversion Values shown)
Marketing Funnel: ClickFunnels, Automated Webinar Marketing Funnel, Facebook/Instagram & Google Ads, Lead Generation, Webform Leads,  and Purchase Conversions
Product: Info Product (Online Course) Influencer
Duration: 9/1/22-9/7/22
Total Ad spend: $60,933.92
Total Gross Sales Conversions: $270,349.84 (pure profit)
Total Customer Sales: 1,397
Average Order Value Per Customer:  $193.52
ROAS: 4.43x
Avg CPA: $43.61 (Cost per customer)
Total Leads: 7,767
Average CPL: $7.84
Project Name
Online Course Lead Gen $270.3k in 7 Days
Our Role
Paid Social Media Marketing, Ecommerce Funnel
One of the key strategies we employed was the use of automated webinars. These allowed the influencer to effectively pitch their product to a large audience without having to be physically present. This not only saved the influencer time, but also allowed them to scale their sales efforts more efficiently.
In addition to the automated webinars, we also set up a lead generation funnel to capture and nurture potential customers. This included the use of landing pages, email campaigns, and other tactics to convert website visitors into leads. The combination of the automated webinars and lead generation funnel helped to significantly increase the influencer's conversion rate and generate more sales.
Finally, we utilized targeted advertising on both Facebook and Google to reach the influencer's ideal audience. By carefully choosing the right audience, we were able to drive highly qualified traffic to the influencer's website and maximize the ROAS. Overall, these advertising efforts played a critical role in driving the influencer's revenue growth.
In Summary
Our work with the influencer resulted in a dramatic increase in revenue, going from $20,000 per month to over $270,000 during a 7 day time frame after just 60 days. This was achieved through the use of automated webinars, a lead generation funnel, and targeted advertising on Facebook and Google. These strategies helped to efficiently scale the influencer's sales efforts and drive significant revenue growth.
At DEMAND GROWTH DIGITAL we specialize in implementing the most cost effective results driven Info Product, Course, Coaching & Webinar Marketing that propel your company towards success and we help grow your business all the way!
For Your Free Marketing Plan and Consultation, click the

Free Marketing Plan

button now!